Hello. I'm Mike McHale and I play guitar and synthesizers, do back up vocals, write songs and tour manage in the group, Peachcake.
It's been interesting how my musical tastes have grown throughout the years. Growing up in rural Northeastern Pennsylvania didn't really have much to offer kids for music other than what was on the radio and MTV. Luckily I was able to find out about a few good bands while living there that would later become a big influence on me.
Shortly after graduating high school in 2004, I ended up in San Diego and started to become familiar with the Southern California music scene and all that it had to offer. Somewhere in between waiting in line for shows at SOMA and snapping shots of bands for a local photography website, I was introduced to Stefan Pruett and the group that I would later become heavily involved with, Peachcake. Little did I know that my meeting with the group would not only help me further my knowledge of music, performing, and the day-to-day life of being in a band, as well as take me places I only had dreamed about going to, but also introduce me to new music that would influence me both as a musician and as a person.
Here is a collection of bands/songs that have meant a great deal to my musical upbringing over the last 10 years...
(click on the titles to hear the songs)
---
Back when I was in high school when the only way to find out about new music was from the radio and MTV, I immediately became hooked to a pop punk band from Florida that would later influence me to make me start my own band after seeing their music video being played one day after school. I think what captivated me the most about NFG was just their overall energy and love for what they were doing and I could just tell that they were very genuine with their music.
---
Another band that I thought was very genuine with what they did with their music and being in a band. I'm glad I was able to see these guys a few time before they broke up in 2008. Their shows were so much fun.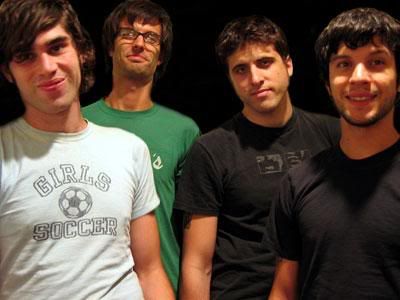 ---
Anyone who knows me knows that I've been a big fan of these guys for a long time now. I first found out about them while they were on Drive-Thru Records back in 2003 and after seeing them live a few months before moving to San Diego, I became a huge fan. Lead guitarist Jack Antonoff's stage presence and performance has always continued to amaze and heavily influence me throughout the years. Although they've gone a more straight rock route in recent years, which I also like, their earlier experimental and kinda softer stuff will always be my favorite phase of their lifespan as a band.
---
I moved from Pennsylvania to San Diego with my folks in 2004 and along with attending my first show there, I was introduced to the goodness that was Reubens Accomplice. After seeing them open for Steel Train, Jack (from Steel Train) highly recommended to me to buy their album, The Bull, The Balloon & The Family, at the show and I'm glad I did. I can't think of how many times I had listened to their album and was just in awe of how beautifully orchestrated each song was on the album. Definitely in my top 10 favorite albums.
---
Another band that was introduced to me through the grace of Steel Train and would later help me meet about half of the friends I made while living in California was Limbeck. Not only was their music really fun to listen to and play on guitar (I remember knowing how to play about every song on Hi, Everything's Great thanks to seeing them live so many times), but it gave off the vibe that you knew the guys personally and you knew exactly what they were talking about after living in California. Nothing but good times whenever the Limbeck band plays.
---
One of the perks of living within the So Cal music scene was being surrounded lots of great local music. But out of the countless number of bands, only Get Back Loretta stood out to me as the real thing. Just a bunch of funny guys with varied musical tastes coming together to make really fun and great sounding pop rock. I could always count on having a good laugh and a good time with the GBL gents whenever I saw them.
---
This was one of the first songs I had heard while on my first tour with Peachcake back in 2007 and this song has stuck with me ever since. To this day, I can't help but get a little choked up from thinking of the amazing friends I have made and how lucky I am to have them in my life whenever I hear this song. If I could have any song be played at my funeral, you can bet that this will be blasting loud at the end of my life.
---
Another band that I became familiar with during the first tour with Peachcake. I just kept thinking how weird of a band they were but still sounded so good. After hearing those live wood blocks in "Once In A Lifetime" from Stop Making Sense, I was hooked.
---
I had known about Miike Snow for a while but when I first saw the video in the link above, I was just in awe of the sounds I was hearing and couldn't believe how they were making them. Just the way everything sounded, from the ringing of the piano to the perfect amount of reverb on his vocals, gave me chills. I was literally speechless after seeing them live last year in Arizona. I can't believe this band exists. In a good way, of course.
---
One band that has very influential on me during the writing process of the latest Peachcake album has been Hot Chip. I'm all about the music when it comes to writing and just the way that they wrote their songs and the sounds they used made me want to achieve something as unique and fun as what they have made.
---
If you ever catch me DJing at all, you'll more than likely hear me play something either written or remixed by these guys. Their music is very hard not to dance with their throw backs to early-disco and 80's synth pop. Definitely one of the promising new groups of this decade, I have a feeling these guys are gonna be very successful in the coming years.
---
I'm sure I'm breaking some sort of cardinal rule of mix making by having one band on the same mix twice, but I don't care. Although the end of LCD Soundsystem has been inevitable for quite some time now, it's still sad when one of your favorite groups disbands. I can't thank James Murphy enough for all the music he's made and how much it has influenced me over the past few years. Even though their final live shows are this week in New York, I'm sure we'll see more of Mr. Murphy in the future and I'll be looking forward to what he does next.
---
Thank you to Ashley Harris for inviting me to be apart of this. Hopefully my writing wasn't too horrendous. It's been a while since I've blogged.
And please check us out at Peachcake.net. We'll be releasing new music on May 3rd and we're very proud of it. So check it out when it comes out.
OK BYE!
--
Mike.